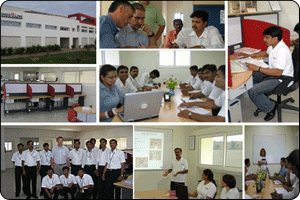 INDOLINK Consulting team is formed by a group of experienced technical professionals and law and management consultants from Europe and India.
Our key executives hold more than 15 years first-hand-experience in business development and setting up companies in India. That makes INDOLINK a unique consulting company in its field.
We have a pro-active approach and constantly strive to design and effectively implement the best strategies for our customers.
We strongly believe in the value of training, continuous improvement and empowerment of our team.
Promoters:
Mario Gil
Expert in industrial organisation, original from Bilbao (Spain), was born in 1969. Degree in Business Administration and post-grade in Advanced Finance by the University of the Basque Country.
Masters in Management by Bilbao School of Engineering, and proficient in the implementation of Theory of Constraints (TOC) management models.
Starts his career as General manager of a textile industry in the Basque Country.
In 1997 joins RINDER, an auto-component manufacturer, as its International Director to lead the start-up of a production branch in India.
After 3 years as General Manager of RINDER India, returns to Spain as Joint Managing Director of RINDER Group, and one year later goes back to India with an the mission of starting a new manufacturing plant and expanding its business in Asia.
In 2004 leaves the company to promote the creation of INDOLINK CONSULTING. As Director of INDOLINK he has supervise the elaboration of numerous feasibility analysis, draft various business strategic plans to setup business in India and lead the creation of several Spanish company branches in India.
Ravi Patil
Graduate in Mechanical Engineering from Karnataka University Dharwad 1992.
Work Experience of more than 15 years of experience with various Spanish, British and Italian Automotive and Engineering companies.
He also served as a Panel member for formulation of safety standards for Automotive lighting in India (Similar to ECE Standards).
He worked in multiple functions such as – Head of Design and development, licensing with govt. dept and consultants for approvals, vendor development, procurement, Project management and execution, cost estimation, Research & Development, company management, trainer…
With such a wide scope of responsibilities, he traveled across the country a lot due to various assignments and hence well aware of strengths and weaknesses of various industry sectors and areas.
Traveled many times to Europe and Asia for the tasks related to project execution and business promotion. Well acquainted with foreign culture & international business environments.
By End 2004. he started Mai Sourcing Pvt Limited with his Spanish, partners.
He is Founder member and presently Director and CEO of Mai Indolink.
With his immense experience, in Mai Indolink, he is handling many international customers interested in sourcing from India and providing consultancy to the international companies dealing with India.